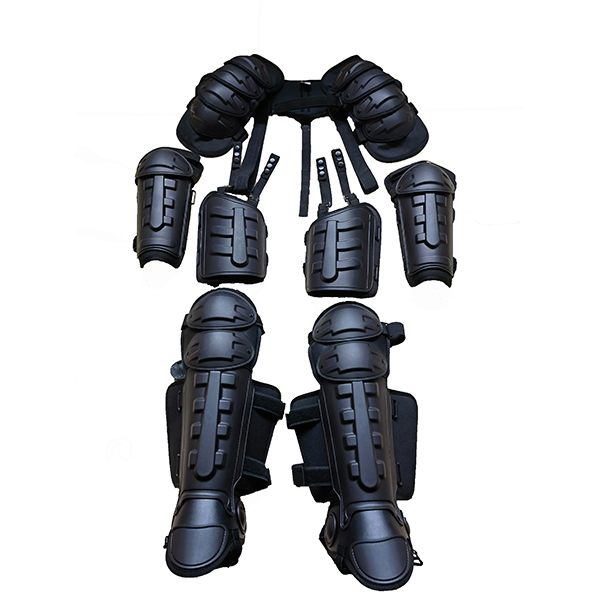 In a world where public protests and civil unrest are becoming increasingly common, the need for reliable protective gear has never been greater. Riot suits are a tenacious combination of ballistic vests and highly elastic suits designed to provide law enforcement professionals with unparalleled protection. This advanced protective garment is made from high-quality 600D polyester fabric, EVA padding and a high-performance flame-retardant nylon plastic shell, ensuring it is lightweight and flexible without compromising safety. Available in three sizes (S, M, L) and weighing only approximately 3 kg, this anti-riot suit guarantees optimal performance even in the most challenging situations.
Made from 600D polyester fabric, EVA padding, and a cutting-edge flame-retardant nylon plastic shell, this riot suit offers superior durability and protection. These materials work together to provide law enforcement officers with much-needed protection against projectiles, strikes and other physical attacks. The suit's bulletproof vest, combined with a flame-retardant outer shell, ensures officers are protected from any potential danger from projectiles or flames. Thanks to its lightweight structure, it guarantees flexibility of movement, allowing officers to maneuver easily in high-stress situations.
In addition to providing an unparalleled level of protection, this anti-riot suit also prides itself on its superior comfort and flexibility. With its lightweight design, officers can move with ease and flexibility, ensuring quick response and effective crowd management. The 600D polyester fabric is highly breathable, allowing officers to stay cool and comfortable for a long time. Additionally, the suit's EVA padding ensures enhanced shock absorption, minimizing the impact of blows and reducing the risk of injury. This combination of comfort and flexibility allows law enforcement professionals to remain steadfastly focused on their duties.
Understanding the importance of a perfect fit for protective gear, riot gear is available in three sizes: small, medium and large. By offering a variety of size options, law enforcement agencies can ensure their officers are equipped with gear that fits their individual body types. Well-fitting riot gear guarantees the protection it promises while allowing officers to move with ease, which is vital to maintaining crowd control and minimizing risk in chaotic situations. This customization option ensures that every officer, regardless of physical fitness, has the equipment to support their duties on the front lines.
When it comes to protecting our law enforcement professionals in chaotic situations, relying on substandard gear is simply not an option. Riot suits are game-changers in crowd control with their innovative designs, quality materials and impeccable craftsmanship. This reliable and versatile protective garment provides unparalleled protection through a combination of a ballistic vest and a highly elastic flame-retardant outer shell. Law enforcement agencies around the world can equip their personnel with riot gear, ensuring their safety and enabling them to carry out their duties without compromising their health. Give your officers the ultimate advantage they deserve with this riot suit - a true shield against chaos.
---
Post time: Nov-02-2023