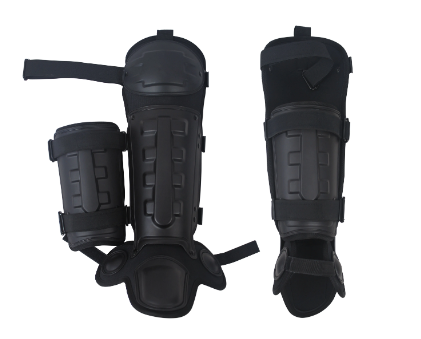 Welcome to our blog where we bring you the latest in law enforcement gear! Today, we are pleased to introduce to you the HT-01 police leg protector. This indispensable piece of equipment ensures you are fully prepared for any physical contact during your mission. With a durable plastic shell and internal padding that effectively absorbs kicks and impacts, the HT-01 provides comprehensive protection from the knee to foot area. Read on to learn why these leg protectors are a must-have for any law enforcement professional.
The HT-01 Police Leg Guard is engineered with the highest precision for exceptional durability and reliability. This leg brace is made from sturdy plastic to ensure long-lasting protection against potential injuries. Internal padding further enhances its protective properties, cushioning blows and reducing the risk of fractures or sprains. We understand that law enforcement officers face physically demanding situations every day, and our products are engineered to provide the necessary support and reinforcement.
The HT-01 Police Protective Leggings not only provide superior protection but also ensure a comfortable fit. Elastic straps with snap buckles provide a comfortable and secure grip to prevent the leg protector from shifting during strenuous activity. Thanks to their one-size-fits-all design, these leg guards fit a variety of body types, ensuring every law enforcement professional can benefit from their reliable defense. When it comes to choosing the perfect leg protector, make the HT-01 your first choice.
Law enforcement officers face countless risks every day while protecting our communities. That's why the HT-01 Police Leg Guard is an essential accessory. From riots to aggressive arrests, volatile street situations require strong protection. With the HT-01, you can trust that your lower limbs will be safe from harm, allowing you to focus on your tasks without hesitation. Knowing you are thoroughly protected will give you peace of mind, allowing you to perform your duties in the best possible way.
Investing in the HT-01 Police Protection Leg Protector means investing in your own safety and well-being. Its combination of strength, durability and unparalleled protection make it a must-have for every law enforcement professional. When it comes to something as important as your personal protection, don't compromise on the quality and effectiveness of your gear. Equip yourself with the HT-01 and head to the front lines with confidence, knowing you have the best defense possible.
All in all, the HT-01 Police Leg Guard is a powerful ally for law enforcement officers, ensuring complete protection of the lower body. Its strong design, comfortable fit, and exceptional durability make it an outstanding choice in the field of law enforcement gear. Embrace the confidence and assurance that the HT-01 provides, allowing you to face any physical challenge head-on while working to keep our community safe. Trust the HT-01 and be prepared for any situation you encounter.
---
Post time: Nov-18-2023